The One Laptop Per Child XO laptop is a Linux/Flash based ultra portable.
I'm comparing it to the other Linux/Flash based laptop on the market the Asus EEE PC.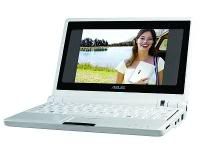 | | |
| --- | --- |
| OLPC XO Laptop | Asus EEE PC |
| $399 (Gets Two) | $399 |
| 9.5″ X 9″ X 1.25″ | 9″ X 6.3″ X 1.25″ |
| 3.2 Pounds | 2 Pounds |
| AMD Geode LX-700 433MHz | Intel Pentium M 900MHz |
| 256MB RAM | 512MB RAM |
| 2GB Flash | 4GB Flash |
| 7.5″ Screen | 7″ Screen |
The are both pretty small with the EEE being quite a bit smaller and lighter. The EEE also has twice the speed, RAM, and storage but for $399 you get two XO laptops. One for yourself and one that is sent to a child in the developing world. The XO also has a lot of interesting technology including dual screens that make it usable outdoors, a variety of input methods, and mesh networking.
These laptops are game changing singularities. The combination of Linux and flash storage has brought the price of ultra portable laptops to affordable levels. You can find deals on 15″ PC laptops running Windows for $400 but they don't offer the portability or ruggedness these laptops offer.
I just ordered one of the OLPCs and when I have shipping confirmation I'll order one of the Asus EEE PCs and do a proper comparison.
Posted in
Linux Hardware
|
1 comment